A bouldering crash pad is an essential piece of gear that you must have to climb boulders, short or tall. It is the only way to make your fall as safe as it can be. Thankfully, there are several options in the market ranging from small supplementary pads to large crash mats. The best bouldering crash pads are listed below, with options from regular to full sized mats.
But hey, we got you covered! Don't worry. We've come up with a review of the 11 best bouldering crash pads for safer landings. Here you will find a suitable option for every budget and need. Let's jump right into it.
How Do I Choose a Bouldering Crash Pad?
It is crucial to understand relevant features and tech specs of bouldering crash pads. Once you know what to look for in a mat, you'll be able to decide on what features are important to you, the pros and cons of each product, in order to make an educated decision on choosing the best crash mat that suits your needs.
In this section, we will talk about such features. Additionally, we will cover the important points and answer any questions that you might have about crash mats. If you are looking to get started and try out bouldering, we have great tips in our bouldering for beginners guide.
What Size of Bouldering Pad To Buy?
Bouldering pads are available in different sizes, ranging from small supplementary crash pads to oversized bouldering mats. Choosing the size that is best for you largely depends on the problem, your budget, and how portable you want the crash mat to be.
For example, a regular bouldering crash pad is more than enough for shorter boulders, so thicker padding isn't so crucial. Here, falls are not that hazardous, and a regular crash pad will handle the impact. However, for those taller climbing routes , you will need a larger and thicker crash pad.
The main advantage of large bouldering pads, as you might expect, is ground coverage. You will have a larger area to land and roll after a fall. Unfortunately, oversized bouldering crash pads are inherently more expensive and tricky to transport.
Crash Pad Types
Let's review some of the most common types of crash mats, when and how to use them:
Regular Bouldering Pads: These are the most common crash pads you will find. These pads typically come in a standard 3'x4′ size, which is more than enough, for entry-level climbing problems.

Closed Size: 24″ x 36″x10″
Open Size: 48″x36″x5″

Closed: 35 x 23.6 x 7.87 inches
Open: 35 x 47.2 x 3.93 inches
Portability and affordability are the main advantages of regular bouldering pads. That's the reason why most beginners tend to purchase them.
Full Bouldering Pads: Full crash pads split the middle between regular and oversized bouldering mats. If you are looking for a versatile crash pad, these mats cover more ground, are thicker than regular crash pads, and are more portable than an oversized model.
Most climbers tend to purchase full crash pads because they are suited for various boulder heights, problems and scenarios.
Mad Rock R3

Closed Size: 35″ x 22″ x 9″
Open Size: 55 x 35 x 4 in
Mad Rock Mad Pad

Closed Size: 24″x36″x10″
Open Size: 48″x36″x5″
Black Diamond Mondo

Closed Size: 44 x 32.5 x 10in
Open Size: 44 x 65 x 5in

Oversized Bouldering Pads: If you want to go highball bouldering, an oversized bouldering pad is what you need. With over 20 square feet, these are the largest crash pads you can find. They are ideal for highball bouldering or rough terrains.
Open size: 44″x70″x5″
Closed Size: 24″x44″x15″
Naturally, oversized bouldering mats are heavier and more expensive than any other style we have reviewed thus far. We only recommend using them if you have the means to transport and store them.
Supplementary Bouldering Pads: Some climbers also refer to them as backup crash pads. These are the most portable bouldering mats you will find, yet also the smallest.
As the name suggests, supplementary bouldering crash pads serve as an extra layer of security, not for stand-alone use. For example, you can throw them above a larger crash pad to add some inches of cushioning. You can also use them to cover small rocks, uneven terrain, or fill gaps between bouldering pads.
---
How Thick Should a Crash Mat Be?
Thickness is, after the size, one of the most prominent features of any bouldering pad. A thicker pad means more cushioning, thereby more protection.
However, the thicker the pad, the heavier and more expensive it gets. But hey! You can't put a price on safety. As a general rule, we only recommend using bouldering pads that are at least 4 inches thick.
Sometimes 4 inches is not enough. For example, highball bouldering involves climbing a 15 feet rock. Here, a single bouldering pad is of little to no use. Stack two mats together instead.
Materials and Construction
All bouldering pads have two major sections: The shell and the interior. The first is what keeps everything in place. It is also in direct contact with the ground and elements. Thus, a durable shell translates into a durable bouldering crash pad.
Nylon is the prime material used in the shell construction. It is flexible, abrasion-resistant, and light. Still, not all nylon yarns have the same properties. Look for the fabric denier rating. The higher it is, the thicker the fiber, and hence, more durable.
The inside of the mat, on the other hand, is what will absorb the energy of the fall. Therefore, the bouldering pad needs to be rigid to handle the impact, but soft enough not to hurt you. Here is where foam comes into play. It is light, and depending on the fabrication process, it can be rigid and fluffy. Let's understand how.
Closed-Cell Foam
Closed-Cell Foam: On closed-cell foam mats, the trapped air form pockets enclosed by solid material. Hence, neither water nor air passes through the structure. This increases stiffness, thereby, weight distribution. A yoga mat is an example of closed-cell foam.
Open-Cell Foam
Open-Cell Foam: Now, open-cell foam is just the opposite. The air is no longer trapped, and it can flow in and out of the structure. As you might expect, open-cell foam is more manageable. However, it lacks the strength to handle the entire shock by itself.
Most bouldering crash pads use both types of foams. Why? Well, closed-cell foam helps with weight distribution and shock resistance. On the other hand, open-cell foam gives you a soft surface to land, provoking minimum damage. The number of layers as well as how they are stacked changes depending on the model.
---
Crash Pad Portability
One would want all crash pads to be easily transported, unfortunately, not all bouldering mats are equally portable due to it's weight, size, carrying and folding mechanisms.
Taco Style
Taco-style bouldering pads have a continuous frame with no hinges. The thickiness of the crash pad has the same stiffness and softness spread across the mat.
Folding these crash mats is a straightforward process. Simply bend them in the middle and buckle up. You might need to use your weight to achieve it. Once done buckling the mat together, you'll notice that the gap between the halves, hence the Taco nickname. Some people place some gear inside to make the most out of the space.
The taco-style crash pads are softer, which means they work better on uneven terrain and easier to fold and transport/ If you choose this mat, don't plan on climbing taller boulders because it won't absorb the impact form a higher fall.
Ultimately, these type of mats need to be replaced more often, because it lacks the hinges need to keep the foam from breaking down from frequent folding and unfolding. Since these taco-style mats lack hinges, it will degrade over time because it lacks hinges. Try your best to keep it unfolded at home to increase its durability.
Hinge Style
In contrast to taco-style crash mat, a hinge style bouldering crash pad comprises two separate sections sewn together, that are folded together like a book.
This way, the foam doesn't fold into itself time and time again, preserving its longevity. Plus, the bouldering pad shut completely, leaving no space between each section and making it easier to transport.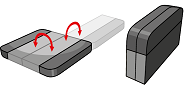 Unfortunately, not everything is as good as it seems. Hinge-style bouldering pads have a notorious weak point which is the hinge itself. As the pad opens, a gutter forms at the opposite end, and it loves to engulf ankles.
This is the reason most climbers avoid using them on uneven terrain. To fix the gutter issue, several brands, such as Black Diamond, have added velcro in order for the pads to attach together.
Tri-fold bouldering pads also fall within the hinge style crash pad category, with the biggest difference is they have three separate padded sections instead of two.
Carrying System
Most beginners often overlook this feature, and the truth is that they should not. Hiking to the bouldering spot is a physical activity on its own.
Imagine that you have to walk some miles with all your gear strapped to your back. Eventually, you will get tired. Getting a bouldering pad with a reliable strap system will greatly reduce the stress on your back.
Try your best to find a crash pad with padded shoulders and waist straps. This way, you can distribute the pad's weight as evenly as possible. Make sure that you can adjust each so you can secure it tightly.
Some bouldering pads even come with chest buckles. While it is not mandatory to get one with those, it makes things easier. See, a chest buckle helps to keep the pad in place. It won't move. Plus, it also keeps the weight closer to your back, making it easier to carry.
---
Best Bouldering Pads
Now you have what it takes to go out there and get the best bouldering pad for the money. However, because the market is thriving with models, it will take you some time to find the right one. But don't worry. Thankfully, we've taken the time to dive right in and review some of the best bouldering crash pads available. Here you have them.
Features:
Type: Classic Hinge
Open dimensions (Feet): 3×4
Folded dimensions (Feet): 3×2
Weight: 8.3 lbs
Shell: PU-coated 900-denier nylon
Interior: Closed-cell PE foam and EVA
Carry System- Padded shoulder and waist straps
Let's start by saying that this isn't the best option for seasoned boulderers. Primarily, it lacks the the thicker padding by being just thick enough for short bouldering problems. Circuit makes up for this by pricing their padding at a reasonable price.
People looking for a backup crash pad or beginners will benefit the most from the Black Diamond Circuit Crash Pad. It has an approximate area of 12 feet, plenty of space for short climbs. In addition, the square edges make it compatible with other similar pads because the edges will sit flush against one another.
The outer shell features a polyurethane-coated 900-denier nylon construction. Since it has a PU coating, it will shed some water, but it won't be 100% waterproof. Inside the pad, you'll find a set of closed-cell polyethylene foam and EVA foam layers to keep the structure rigid yet soft.
This hinge-style pad has a set of adjustable shoulder and waist straps. Unfortunately, only the first has some padding. Thankfully it only weighs 8.3 pounds. Three easy-hook metal buckles keep the crash pad shut for transportation.
What We Like:
Affordable price tag
It comes with metallic easy-hook buckles
Lightweight
Pleasantly soft landing area
Multiple color options
What We Dislike:
Not enough thickness
The waist plastic buckle is prone to break
---
Best Crash Pad for Uneven Ground: Mad Rock R3
Features:
Type: Baffle
Open dimensions (Feet): 2.9×4.6
Folded dimensions (Feet): 2.9×1.8
Weight: 17 to 20 lbs. depending on the stuffing
Shell: 1680-denier nylon
Interior: 4 inches of shredded EVA foam
Carry system- Adjustable padded shoulder and waist straps
Unusual as it might look, the R3 bouldering pad is the best crash mat for uneven terrain. With it, you can cover anything from tree stumps to boulders. All of this, thanks to its peculiar build.
It has seven separate baffles. Each one has some recycled shredded EVA foam inside, which is responsible for providing cushioning. The Mad Rock R3 Crash Pad also has a gap between each section, allowing it to be shaped to whatever surface you'll be falling on.
This crash pad is easy to store. Simply wrap it like a burrito, and strap it down.
The 1680-denier exterior ensures that the pad lives to expectations. And it does. A fellow boulderer has one of these bad boys, and it hasn't a single tear. Mad Rock's customer service deserves kudos because they sent him a bag full of recycled EVA foam to replaced the stuffing of his R3 once it wore out.
There are some cons. Mainly, the padding isn't consistent across the crash pad. The impact might be felt more in some areas of the pad when falling from taller heights.
What We Like:
Uses recycled EVA foam
Ideal for uneven terrain
Easy to store
Plenty of space to stash some gear inside
What We Dislike:
Heavier than other pads of a similar size
Uneven foam distribution
---
Features:
Type: Classic Hinge
Open dimensions (Feet): 3×4
Folded dimensions (Feet): 3×2
Weight (Pounds): 14
Shell: Nylon
Interior: 3-inch thick open-cell foam with two 1-inch thick closed-cell foam
Padded shoulder and waist straps
Chest straps
Velcro straps
Mad Rock offers less expensive crash pad for the budget-conscious boulderer. Their starter pad, Mad Pad, retails for less than $200 and packs all the essential features that any beginner will need.
Similar to the Mad Rock R3, the Mad Pad has a classic hinge construction. But unlike the R3, this model lacks a PU-coated exterior, resulting in a shell that may tear more easily and isn't as waterproof.
On the inside, you will find a single, 3 inch, open-cell foam layer sandwiched by two 1 inch, closed-cell foam layers. Believe me. There is nothing as reassuring as having a thick pad watching your back.
Not only do you get a thicker pad, you get 12 square feet of a safer landing than the previous crash mat. Take advantage of the velcro straps and fasten two or more Mad Pad together to increase landing coverage. You end up with a thicker pad, making it suitable for a wider range of bouldering problems.
Last but not least, this crash pad has padded shoulder straps, an adjustable waist belt and chest strap, which makes it easier to carry despite weighing 14 pounds.
What We Like:
The landing area is 5 inches thick
You can turn it into a lounge chair
Velcro straps allow you to fix several pads together without gaps
What We Dislike:
The shell has no coating
Foam loses its properties fairly quickly
---
Best Supplementary Crash Pad for Bouldering: PETZL Nimbo Crash Pad
Features:
Type: Supplementary crash pad
Open dimensions (Feet): 2.5×1.6
Weight (Pounds): 1.7
Shell: Cordura (Nylon)
Interior: 1-inch thick PE foam
Single handle strap
If we didn't mention the PETZL Nimbo Crashpad is supplementary crash pad, this wouldn't be a comprehensive review. You might well skip this one if you are looking for a stand-alone bouldering pad. It's ideal for filling the gaps between two other pads.
Supplementary crash mats are used to add a couple of inches of padding on top of regular and full sized bouldering pads landing area, for times when you're climbing greater heights.
The durable Cordura exterior keeps the water from soaking the 1-inch polyethylene foam interior. Additionally, the reinforced lower seams helps to minimize tearing. These two features increases the lifespan of the pad.
It offers 4 square feet of coverage. Yeah, it's not impressive because is only a supplementary bouldering pad. One thing that we didn't like is that it only has one strap.
Even though the pad is not heavy, it can be awkward to carry since it doesn't offer backpack straps. It's best to stash it inside your main pad and keep your hands free.
What We Dislike:
The carrying system could be better
---
Features:
Type: Classic Hinge
Open dimensions (inches): 44 x 65 x 5
Folded dimensions (Feet): 3.7×2.5
Weight (Pounds): 20.6
Shell: 1000-denier nylon with PU coating
Interior: 5 inches thick foam
Padded shoulder and waist straps
With almost 20 square feet of landing area, the Mondo is the biggest bouldering pad we've reviewed thus far. It's also one of the thickest crash pads.
We totally recommend this pad for all those boulderers that like to push their limits doing highball bouldering. Sadly for your wallet, all this safety comes at a price.
There is nothing to complain about construction-wise. You get a closed-cell PE foam at the top of the pad, a high-compression PU foam layer at the bottom, and soft open-cell foam in between. Falling doesn't get more comfortable than this.
The Mondo crash pad has a durable and waterproof PU-coated nylon top and sides. It has a rubberized bottom which increases the grip on slippery surfaces. In short, this long-lasting shell that performs well no matter the weather.
Keep in mind that since this is classic-hinge bouldering pad, you might have a hard time using it on bumpy uneven ground.
Padded shoulder and waist belt make for the carrying system. The shoulder and waist straps are adjustable, however, we think that Black Diamond could have added more cushioning to them, given that it weighs around 20 pounds.
What We Like:
Soft, firm, and durable interior
Waterproof and abrasion-resistant housing
Anti-slip rubber bottom
Four corner grab handles and two shoulder webbings for easy pad shuffling
What We Dislike:
Uncomfortable shoulder and waist straps
Very expensive
---
Features:
Type: Tri-fold Hinge
Open dimensions (inches): 44″x 70″x 5″
Folded dimensions (inches): 24″x44″x15″
Weight (Pounds): 24
Shell: Nylon
Interior: 5 inches thick foam
Padded shoulder
Adjustable waist belt
If you like the Mad Pad we've reviewed before, but you want something bigger, then this is the may be the one for you. With a little over 20 square feet, this oversized bouldering pad is the perfect buddy for highball boulderers. It's similar to the size of a twin bed but wider.
Like the previous pad, the Triple Mad Pad has 5 inches of both open and closed-cell foam to absorb the energy of the fall and is great for tall boulders where you get more coverage. But its quite heavy to take on a long approach.
The foam is quite stiff, so this pad should last you while but the shell isn't that great. It's neither waterproof nor as abrasion resistant as other models. This isn't surprising, given the price for this oversized bouldering pad.
The shoulder straps and waist belt could use work. There isn't enough padding on the shoulder straps for carrying the 24 pounds of crash pad weight and waist belt doesn't have any. In other words, you may find it difficult to carry this pad on short walks.
While it does have metallic easy-hook buckles to keep it closed, there aren't any exterior gear loops. You'll have to decide whether the lack of extra loops to attach gear is worth the savings on one of the most affordable oversized bouldering crash mats you can find.
What We Like:
Affordable price tag
Thick landing area
Compact for it's size
What We Dislike:
The shell is not waterproof
Heavy and uncomfortable to carry
---
Features:
Type: Taco
Open dimensions (inches): 58 x 46 x 5 in
Folded dimensions (inches): 30 x 46 x 14 in
Weight (Pounds): 20.7
Shell: Waterproof nylon
Interior: 5 inches thick foam
Padded shoulder
Padded adjustable waist belt
It is time to show something for the taco-style enthusiasts: The PETZL Cirro. With it, you can cover up to 18 square feet (3.8×4.8 feet) with a 5-inch thick padding. This pad will take falls like a champ!
This hingeless pad has three layers of foam inside. Each one of different density and with a unique purpose. On the exterior, we find a waterproof reinforced shell. All corners and lower seams enjoy extra protection against hits and rough ground.
One thing that we love about this pad, is that it has zippers instead of straps, to close it. This allows you to stash some gear inside without worrying that it might fall out. Take advantage of the multiple handles to move the open pad around.
Thankfully, you do get a fairly decent carrying system with enough padding. As as result, you can also adjust all straps, including the one on the chest, which allows the weight to be distributed evenly and keeps the pad from moving as you hike.
The PETZL Cirro Crashpad also has a flap that zips over the carrying straps, which is definitely handy when bouldering over mud. You won't have to deal with a muddy back!
What We Like:
Comfortable carrying system
Waterproof shell
Lower seams in contact with ground are protected
Can also serves as a sleeping pad
3 years warranty
What We Dislike:
The zipper is prone to break
Velcro adjustable straps don't always ensure a perfect fit
---
Features:
Type: Angled hinge
Open dimensions (Feet): 3×4
Folded dimensions (inches): 29.5 x 46.5 x 13.8 in.
Weight (Pounds): 9
Shell: Nylon
Interior: 4 inches thick foam
Padded shoulder
Padded adjustable waist belt
The Session II bouldering pad by Metolius features a classic hinge built with exactly 12 square feet of coverage. Right in the middle, you will find a carpeted logo that you can use to wipe your shoes or get rid of the excess of chalk.
The Metolius Session II Crash Pad has a nylon exterior tough enough to handle sharper edges. However, if the terrain is rocky and you're an experienced boulderer, you'll want a crash mat with a more durable fabric. Also, the Session II isn't waterproof. If you're a seasoned climber who will be in placing your mat on a wet ground, you might want to pass on this pad.
Something that makes the Session II unique is its flap closure system. Just wrap the pad with the flaps, using the straps to fasten the cover. Once you are ready to climb, flip the mat over to cover the padded shoulder and waist straps while you are bouldering.
With a 4-inch thick closed and open-cell foam body, the Session II gives just enough cushioning to handle most falls. However, we don't recommend using it for highball bouldering, because it can't absorb impacts from greater heights. Lastly, if you plan on climbing to greater heights, make sure to bring another crash pad.
What We Like:
Price
The flap closure system allows you to store gear
Very soft foam
What We Dislike:
There are several loose threads on the velcro
It isn't waterproof
It is not the best option for grinding ground
---
Features:
Type: bi-fold
Open dimensions (Feet): 4×6
Folded dimensions (inches): 52 x 40 x 11.4
Weight (Pounds): 14.1
Shell: Cordura paneling with Teflon and plastel coating
Interior: FTS Absorption 5.70 inches thick
Shoulder straps, carry handles, and shoulder sling give versatile carrying
Two locking hook-and-loop closing straps turn pad into couch
If you love tall boulders, but detest how heavy a large crash pad weighs, you'll love how lightweight the Ocun Dominator is in comparison to other similarly sized mats. It's considered one of the best bouldering crash pads. The designers of the Ocun Dominator went wild with their imaginations and design a pad with perforated foam cylinders placed upright.
This design was such a game changer that Ocun was also awarded a prize by the international ISPO jury for innovation in outdoor gear, for their unique Foam Tube Suspension System (FTS).
A traditional mat made of foam sheets absorbs fall impacts in the center and over time, sinks in the middle. Think of a bed mattress after several years. You won't get that with this bouldering pad.
This crash pad is crafted specifically for highball boulders because the construction design incorporates vertical foam cylinders instead of foam sheets. In other words, the mat's elastic tube design drastically increases the pad's impact absorption capabilities from falls from both great and small heights, and from bottom and top of mat.
You can use the straps and convert this bouldering crash pad into a crash "couch" to take a badly needed coffee break.
Despite being one of the largest pads on this list, it's 20% lighter than the other crash mats. If you're looking for an oversized pad that won't break your back after a long hike, the Ocun Dominator is a superb choice.
What We Like:
Even fall impact across pad
Light for its size
Converts to a chair /couch
---
Features:
Type: Classic hinge
Open dimensions (inches): 48 x 36 x 4
Folded dimensions (inches): 36 x 24
Weight (Pounds): 12
Shell: 1050-denier seams and 1000-denier landing area
Interior: 4 inches thick foam
Padded shoulder
Adjustable waist and chest belt
Straps and pocket flap
Organic bouldering pads are widely known for their softness and durability. I had the opportunity to fall on the Organic Full Pad, and I didn't even feel the ground beneath it.
How is this possible? Organic changed the game by using a 1-inch memory foam layer, instead of using the classic closed-cell foam design for their crash pad. The other 3 inches is an open-cell layer. Although memory foam is softer than closed-cell foam, it still manages to distribute the weight from a fall. Organic is widely known for having one of the most durable foams ever.
The exterior matches the quality that you find inside the pad. The 1050-denier seams and bottom increase tear and puncture resistance. Plus, the 1000-denier Cordura landing protects the foam without being too harsh for your skin.
Although looks are not as important as performance, we were glad to see plenty of color options for crash pads. You can even customize your pad to your liking as long, as you buy it directly from the supplier, of course. The advantage of having a colorful pad is that it is easily visible and doesn't blend with the surroundings.
With 3×4 feet landing area, it might be a little small for highball bouldering. However, the Organic Full Pad features long closure straps to piggy-back another bouldering pad on top of it, allowing the pad to increase the absorption impact from falls.
What We Like:
Very soft landing area
Long-lasting shell and interior
Pocket flap and straps allow you to carry an extra pad and gear
Colorful design options
What We Dislike:
Only the shoulder straps have padding
The frame is not rigid enough for high routes
---
Features:
Type: Supplementary crash pad
Open dimensions (inches): 36 x 23in x 0.75
Weight (Pounds): 13.75
Shell: Nylon
Interior: 0.75 inches thick closed-cell foam
Are you looking to add an extra layer of protection, or do you want to cover a rock or sharp edge? If you answered yes to either one, the Short Stop, by Metolius, offers itself as an affordable solution.
It is larger than the PETZL Nimbo supplementary pad, thus offering more landing surface. However, what you gain in square feet, you lose in thickness. There is a single 0.75-inch closed-cell foam layer, barely enough protection. Still, you are paying around 40 bucks less. So, we think it is an awesome deal for budget-conscious boulderers.
Like most supplementary crash pads, the Short Stop exterior comprises a nylon shell with two handles at opposite sides. It doesn't fold. That's said, transporting it shouldn't be an issue. It's small enough to tuck inside a hinge-style bouldering pad.
What We Like:
Impressive coverage for a supplementary crash pad
Affordable
What We Dislike:
Under 1-inch of cushioning
---
Best Bouldering Crash Pads: Closing Thoughts
We've given you all you need to know about bouldering mats. Now, it is time for you to choose which is the best one for you. We think that the Black Diamond Circuit is the best bouldering crash pad for beginners. First, it is large and thick enough for most entry-level problems. Plus, it is lighter and cheaper than the Ocun Dominator, our first runner-up.
If a supplementary crash pad is what you are looking for, we recommend the Nimbo by PETZL, as it happens to be the most durable option. For uneven ground, you won't find any bouldering pad better than the Mad Rock R3 Crash Pad. Its unique baffle design beat even the best taco-style crash pad. Besides, with a 1680-denier construction, it is the most durable pad on this list. Lastly, the Mad Rock Triple Mad Pad , is our winner when it comes to oversized crash mats. It is large, thick, and affordable, three features that any boulderer will love.
So, tell us. Which is the one you love the most?
Last update on 2021-06-21 / Affiliate links / Images from Amazon Product Advertising API