Note: You should always assume that pretty much every link on this blog is an affiliate link and that if you click it, find something you like and get it, I'm gonna make some serious chump change.
A few years ago, we only saw rooftop tents on rugged-looking overland vehicles designed for expedition travel. Flipping through National Geographic, there were fascinating images of four-wheel-drive trucks setting up camp in remote, wilderness of the Namib desert or Andean foothills.
We compiled a guide on how to choose the best rooftop tents for car camping 2021.
Camping with cartop tents are now easily accessible, since it no longer requires a Range Rover or a safari guide to go camping! These rooftop tents can now be mounted on many different types of vehicles and used on relaxing family holiday to extreme expeditions.
At-a-Glance:
Season
Spring, Summer, Fall, Winter
Spring, Summer, Fall, Winter
Spring, Summer, Fall, Winter
Spring, Summer, Fall, Winter
Use: All Seasons
Sleeps: 3
Warranty: 1 Year
Weight: 48 lbs.
Base: 2.5cm aluminum/polyurethane sandwich base with 660lb load capacity
Material: 600D Heavy-duty ripstop polyester, waterproof and polyurethane-impregnated
Tent Poles: Anodized aluminum
Flysheet: 420D Oxford
Mattress: High-density fire-retardant foam with removable cover
Installation: Dual aluminum track for universal installation using U-clamps
Annex: purchased separately
The waterproof properties of this rooftop camping tent are excellent. The rainfly is perfect for keeping out even the most aggressive rainfall, and the inner tent is treated, making sure no water enters the living space.
The opening within the roof of the tent allows for decent airflow and ventilation. It is a nice touch for those dry, starlit nights.
If you want extra space and your car roof is taller, an annex can be added. You'll need to purchase the Smittybilt 2788 annex separately
The Smittybilt Overlander Tent stretches your dollar even more by including a few extras with its base model. It comes with a comfortable mattress and plenty of space for two adults and a child. The other extra, is rubber boot bag to hang your grubby, dirty shoes outside. No more complaints about crusty dirt inside your rooftop tent.
This tent comes with integrated, LED lights that are bright enough to read books during the darkest of nights.
If your Jeep Wrangler has a suspension lift, chances are you're going to need one of these Smittybilt Overlander tent ladder extensions.
What We Like:
Good quality durable material
High waterproof properties
Comfortable mattress
Integrated LED lighting strip
What We Don't Like
Zippers are not the best quality we have seen
No insulation for cold weather
Installation a bit challenging
VIEW ON AMAZON
---
Use: All Seasons
Sleeps: 2-3
Weight: 150 lbs
Warranty: 1 Year
Dimensions: (Open) L: 83.5 inches, W: 52 inches, H:48.5 inches. (Closed): L: 83.5 inches, W: 52 inches, H: 11 inches.
Base: 750lb max load
Material: Waterproof cloth
Tent Poles/Ladder: Aluminum
Flysheet: Waterproof cloth
Mattress: High-Density "84 x 54" Foam Double/Full Mattress
Installation: All hardware included to fit to roof bars
This is the lightest tent on our list. It's one of the easiest and quickest to set up and dismantle. The Raptor Series company makes products for the SUV and truck enthusiasts in mind which is seen in their Voyager Rooftop Camping Tent, which is designed to easily mount on your stock roof rack or aftermarket system.
Basically, this tent is designed to eliminate water pooling and encourage rain to flow off quickly. It has a built-in awning/porch for panoramic views and a door that rolls top-down. This also provides increased weather protection from windy or stormy weather, while it allows air flow.
Inside the tent, are built-in pockets to hang your gear, electronics and essentials. No more feeling around the tent for your headlamp, multitool, or phone.
As a result of the rooftop tent 's low-profile design, it minimizes fuel consumption when driving. When closed, the Voyager Raptor Rooftop truck tent is 85 inches long. Specifically, beware of overhang on your vehicle on objects around you.
Tip: Always check with the manufacturer of your vehicle and your roof rack system to determine the applicable weight limitations as they vary from vehicle to vehicle. Truck bed racks will need to be taller than the cab in order for the tent to fit properly.
What We Like
Feels and looks very high-quality
Very easy to set up and tear down
Lower profile design when closed
Copes well in high wind/rain conditions
Good value for money
What We Don't Like
The instruction leaflet is not the easiest to understand
Realistically sleeps 1-2 adults comfortably, not 2-3
VIEW ON AMAZON
---
Use: All Seasons
Sleeps: 3
Dimensions (inches): Closed- W:63" x L: 47" x H: 14"; Open- W:63" x L: 122" x H: 51"
Warranty: 4 Year Limited
Base: Heavy-duty reinforced diamond plate base
Material: 600D premium double ripstop polyester-cotton canvas
Tent Poles: Anodized aluminum
Flysheet: 420D Heavy duty rain fly
Mattress: High density 3 -inch memory foam mattress with removable cover
Installation: Requires no drilling or modification to your vehicle if equipped with factory or aftermarket roof rack
The tent's shape makes it feel very spacious. The fold-and-go design of this rooftop tent ensures that set up and tear down is quick and easy. You'll appreciate not having to bring extra tools to assemble this.
Overland Vehicle Systems goes above and beyond with their Nomadic 3 tent by providing extras. There is plenty of storage within the tent, including 6 internal pockets for shoes and clothing. This OVS Nomadic 3 Extended Rooftop Ten comes with 2 ground stakes, 2 paracords, power bank pouch with the tent purchase. In addition, they provide memory foam pillows, additional storage pockets, dustpan with a brush, and laptop table gives the space a homey feel.
The lighting is fantastic, secured by a Velcro fastening LED strip. Included is a handheld LED torch with clip and magnet.
The Overland Vehicle Systems Nomadic 3 Extended Roof Top Tent comes in 2 colors: Artic and Grey. Keep in mind that the awning, awning wall, car side shower, and annex are sold separately.
What We Like
The double-insulated floor and memory foam mattress create excellent insulation
Excellent internal storage
High-quality materials used throughout
Easy to set up / dismantle
The extras pack is a nice touch
What We Don't Like
Rainfly is a little noisy during windy or rainy weather
Condensation can occur at low temperatures
VIEW ON AMAZON
---
Use: All Seasons
Sleeps: Up to 4
Dimensions (inches): Closed- 72 x 48 x 12; Floor- 96 x 72 x 56 (W x L x H)
Weight: 190 pounds
Warranty: 2 years
Base: Welded aluminum tube with insulated aluminum cap plate
Material: Coated 600d ripstop and 260g polyester cotton blend
Tent Poles: Aluminum
Flysheet: Breathable treated fabric
Mattress: High-density foam mattress
Installation: Recommended for aftermarket roof racks
Included: Annex
One of the larger tents on our list, with plenty of room for two adults and two small children. The removable annex is a great addition by creating a perfect space for eating, storing equipment, and removing wet clothing before entering your tent.
If you want to snooze during the day or get a good night's sleep, it's high-density foam mattress will keep you comfortable.
A few tech specs to factor in: The ladder provided with the Thule Tepui Explorer Autana 4 Rooftop Camping Tent extends to 8.5 feet. This tent has a static weight capacity of 650 lbs for camping and gear using Thule branded racks.
The whole tent is treated with a UV and mold-resistant coating to prolong the life of the fabric. It's very well ventilated with the inclusion of plenty of mesh panels. These panels can open entirely for even more airflow.
The Autana Floor, weighs in at 30 pounds, is held in place by a zipper and can be removed.
As always, you'll want to check the weight capacity of your roof rack.
What We Like
Lots of space and lots of storage
High-quality materials and fabric coatings
The annex is large and very functional
Ventilation is fantastic
The tent feels very well insulated from the cold
What We Don't Like
The size of the tent and the annex make it one of the heavier options
Recommended for aftermarket racks not factory fitted
The annex is not adjustable, which means it does not fit lower vehicles
---
Use: Spring, summer, fall
Sleeps: 2
Weight: 8 lbs.
Warranty: 1 year limited
Base: Polyethylene flooring
Material: 68d polyester taffeta
Tent Poles: Fiberglass
Flysheet: Full rainfly
Mattress: none
Installation: Stores in the truck bed
Another best of rooftop tents, is the Napier Backroadz Truck Bed Tent 19 series. Rather than placed on the roof, the tent sits on the truck bed. This does limit the usage to owners of pickup trucks. The truck tent is a viable option if you own any size bed pick up truck. Napier sells camping truck tens in 5 bed sizes; compact short bed, full size short, compact full regular, full size regular, and full size long.
The tent is relatively quick and easy to set up. You get for what you pay. The price difference between a $1,000 and $200 tent, is seen in the material and the standard features. You can immediately feel that the materials are not as high quality as the other tents on this list. These are more similar to conventional tents as opposed to the other heavy-duty rooftop versions, which is reflected in the price.
The tent does sit on the truck bed, with the sides offering a bit of protection from the elements. Additional features are the waterproof construction, gull tent floor keeps you clean from your truck and dry bed.
What We Like:
Very lightweight and transports in the bed of the truck without taking up much room
Makes the most of the space available in the back of a truck
The tent does feel secure and strong
Good weather protection
Decent ventilation
What We Don't Like:
Limited to pickups only
It takes 30-40 minutes to set up
No floor insulation means a very thin barrier between the metal truck bed
Fiberglass poles do not feel hugely strong
VIEW ON AMAZON
---
Use: Spring, summer, fall
Sleeps: 2
Weight: 7.35 lbs.
Warranty: 1 year
Base: None
Material: Water-resistant fabric with taped seams
Tent Poles: Fiberglass
Flysheet: n/a
Mattress: none
Installation: Stores in the truck bed
The second truck bed tent on our list, this tent is very much the budget option.
There are no fancy materials or proprietary fabric coatings, which keeps the cost down. The manufacturers market the fact that they do not include a floor on this model. Although this may have practical benefits for some scenarios, such as pitching the tent without removing items from the bed, it dramatically reduces the insulation properties.
This tent has a "waterproof" rating of 2000mm. In other words, it's at the lower end of waterproofing properties and will stand up to light rainfall, but don't expect it to withstand torrential or long periods of rain.
This tent suffers from the highest condensation levels of any product on this list.
If you are looking for a pickup-specific, low-budget option for fine weather camping, this is a viable choice.
What We Like
Lightweight and easily transportable
Low cost
It fits different truck models
What We Don't Like
Feels cheaply made
Parts feel low quality
Condensation is an issue
It can be tricky to set up and takes well over 30 minutes
---
Use: Spring, summer, fall
Sleeps: 2
Warranty: 2 year manufacturer
Dimensions: Closed- 50 x 43 x 8.5 inches, Open: 84 x 50 x 44 inches
Weight: 105 lbs.
Base: Cellulized thermoplastic honeycomb fiberglass
Footprint included: No
Material: 3000wp breathable ripstop polyester
Tent Poles: Wrapped aluminum
Flysheet: 3000wp PU coated polyester
Mattress: 2.5 inch high-density foam
Installation: Easily fits most standard roof bars
This tent's low profile and compact design make it appropriate for most vehicles with standard roof bars. If you have small SUV or car, the Thule Tepui Low Pro is designed to fit these and larger vehicles.
The No-see-um mosquito mesh, which provides excellent bug protection and enables you to thoroughly ventilate the tent while keeping out unwanted visitors.
The Low Pro is under nine inches high when packed, which is up to 7 inches thinner than other manufacturers. Despite the lightweight nature of this tent, it still has impressive weather-proof properties. There is an optional thermal lining that would improve the weather comfort.
The base is made of a recyclable material which is an excellent step towards encouraging the sustainability of rooftop tents.
What We Like
Suitable for many different types of vehicle
Lightweight, low profile, and aerodynamic design minimizes the changes to handling and fuel economy.
Excellent weather protection and optional thermal liner
Customizable with extensive spares and accessories catalog
Easy to install
What We Don't Like
Taller people may have to lay diagonally
D-ring straps are a little bit fiddly when unpacking or packing
VIEW ON AMAZON
VIEW ON REI
---
Use: All seasons
Sleeps: 2
Dimensions (inches): L 58.00 x W 48.00 x H 17.00
Weight: 114.64 lbs
Warranty: 2 year limited
Base: Abrasion resistant with textured finish
Material: 600D ripstop polyester fabric with 3000mm wpc
Tent Poles: Aluminum
Flysheet: 210D ripstop rainfly with 3000mm wpc
Mattress: 2.5 inch foam mattress
Installation: Easily fits most factory fit and aftermarket roof systems
The previous version of this tent suffered from water leakage issues. The brand listened ot its customers and made updates. The Yakima Skyrise 2 rooftop tent has a PU waterproof coating with a water shedding rainfly to ensure that even the harshest rain shower, is dealt with comfortably. This rooftop car camping tent feels reliable and weather-proof.
Zipping up the flap creates a well insulated space and opening the flaps them allows for plenty of ventilation, great for cold and warmer days. The large rainfly also enables ventilation windows to remain open, even if there is a risk of precipitation, ensuring condensation is minimized.
The tent feels solid in strong winds. It doesn't make too much noise or movement, giving you that extra bit of confidence that the tent will hold up, when the weather takes a turn for the worse.
Set up and tear down is quick and efficient.
What We Like
Warm and weather-proof tent
Bug nets are very effective
Lightweight and easy to install/remove
Quality materials and design
What We Don't Like
Mattress is a bit too firm for some people
Installation connections are not universal
Sky window could be a bit clearer for stargazing
VIEW ON AMAZON
VIEW ON REI
---
Use: All seasons
Sleeps: 2+
Weight: 145 lbs
Warranty: 2 years
Base: ABS fiberglass
Material: ABS fiberglass shell/polyurethane-coated polyester walls
Tent Poles: N/A
Flysheet: N/A
Mattress: 2.75 inch custom shape foam mattress
Installation: Roofnest mounting kit attaches to most roof bars
A very high-quality rooftop tent which is reflected in it's price.
The hard-shell design comes with a multitude of benefits. If you're too lazy to pack up your bedding, it is possible to leave your bedding in the tent during transportation and storage. There are rumors of users running their vehicles through car washes with no water entering the hard shell.
The hard floor and ceiling have an insulating layer and are finished in a quilted material for added protection from the elements. Additionally, the tent's base includes a condensation mat which prevents moisture from being absorbed by the mattress for drier sleeping.
Three awnings can be opened at various levels to act as windows or ventilation openings, creating outstanding airflow throughout the tent. The tent's vertical walls allow for more head room which feels less claustrophobic, when compared to the tapered walls of non-popup versions.
The RoofNest Sparrow XL includes a few nice features, such as a designated area for solar panels, mesh storage, and a ladder base mat. Dirty shoes can remain outside. Don't forget, shake out any scorpions or critters that may have crawled into your hiking boots. Now where exactly is that First Aid Kit?
What We Like
The most comfortable space of any rooftop tent on our list
Quality design and materials throughout
Warm and dry in all weather conditions
Safe and secure mounting
Multiple awnings allow for customization of openings and ventilation according to wind direction
Very stable in windy weather
What We Don't Like
The high cost could be off-putting
Quite a large, heavy box to handle when it is delivered
---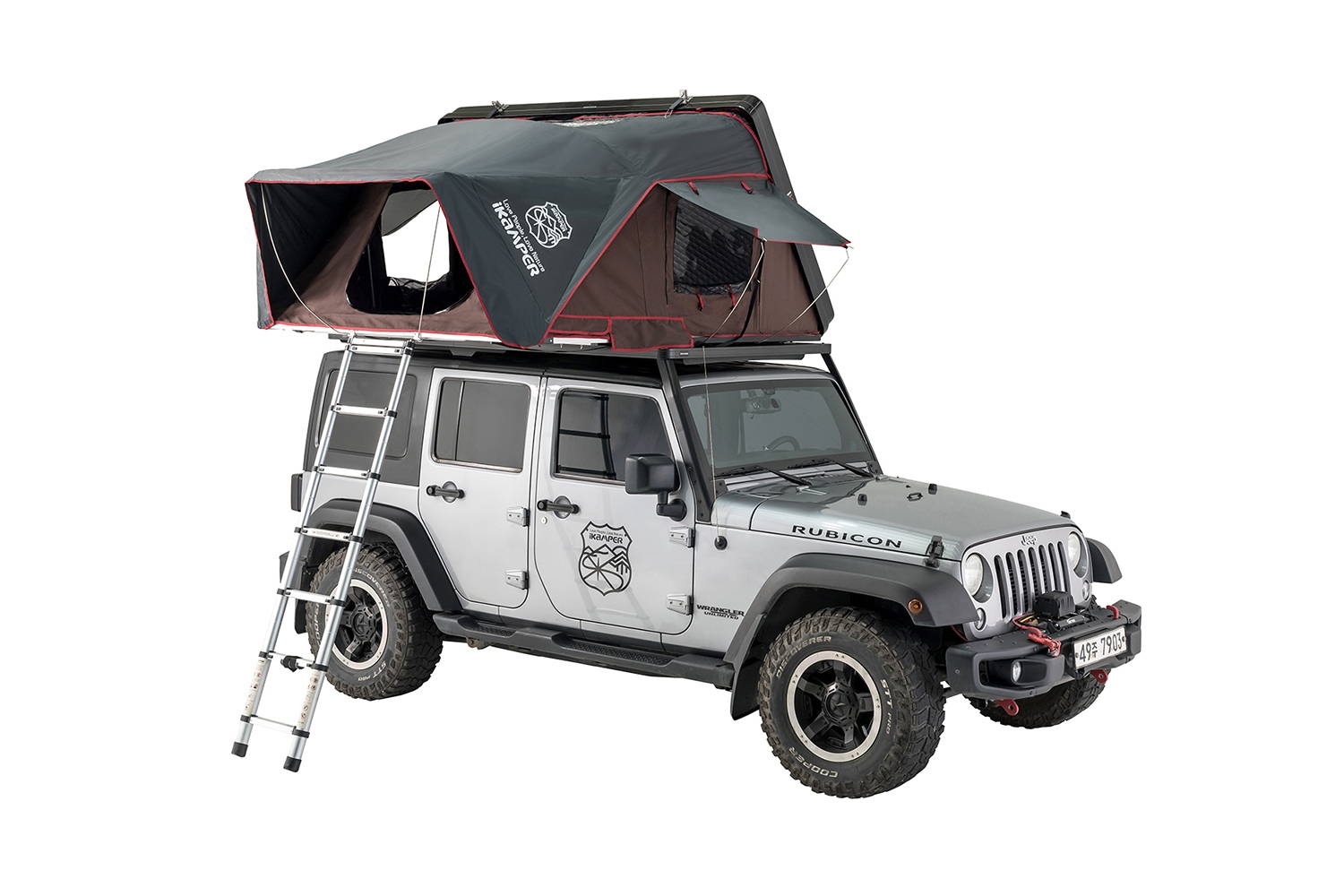 Use: All seasons
Sleeps: Up to 3 (adults)
Weight: 155 lbs
Warranty: 2 years (extended 3 years with reduced parts costs)
Base: Honeycomb Aluminum
Material: 300gsm polycotton canvas
Tent Poles: N/A
Flysheet: Waterproof 150d rainfly
Mattress: King size 1.8 inch memory foam mattress
Installation: Universal mounting system
Everything about the Ikamper Skycamp 2.0 suggests quality from your initial experience with their beautifully designed website when ordering the product, all the way to the first night under the stars.
These guys have been in the rooftop camping game for a while. They took the original Skycamp, a hugely successful and popular rooftop tent, and improved it.
The heavy-duty and breathable canvas material is waterproof to a very high level, offering protection from heavy rain and condensation. The rainfly and waterproof zippers make for dry and comfortable conditions, regardless of the weather, so you'll never have to wonder if that one drop of water will lead to more.
The tent sets up in less than one minute, and tear down takes no time at all.
The accessories catalog is fantastic. You can purchase all sorts of accessories, from extra storage options, add an annex, to an impressive internal insulation gear. If you have many camping adventures in your future, you can replace the tent skin without the buying a whole new rooftop tent.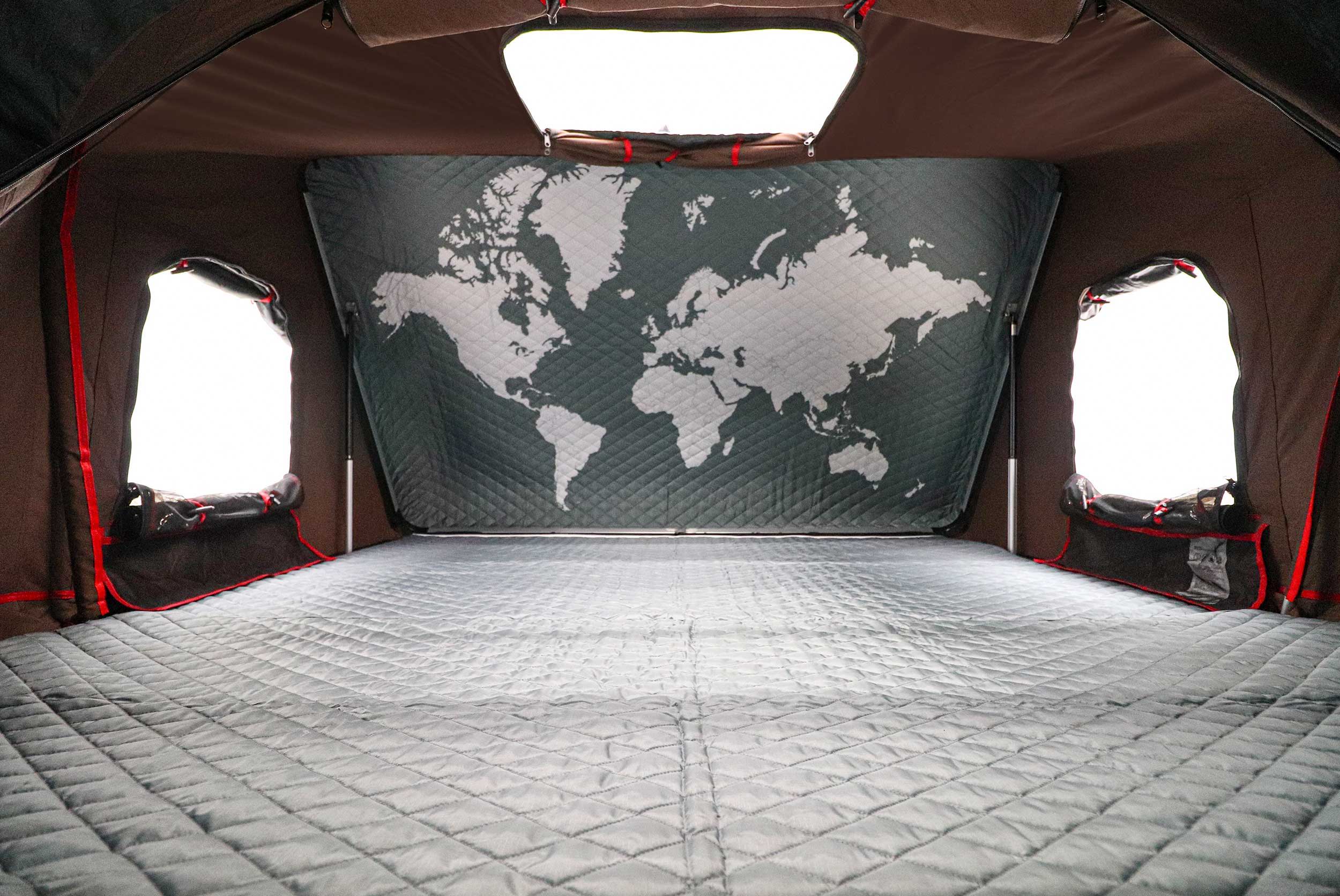 What We Like
Very high-quality product
Spacious and comfortable
Performs very well in rain and high winds
For the size of the tent, the rooftop storage is relatively small and aerodynamic
Sets Up in 1-minute
What We Don't Like
The universal mount can be slightly fiddly to install
Expensive
---
Advantages of a Rooftop Tent
Mobility
Rooftop tents are the ultimate road trip accommodation. They are perfect for touring and (subject to permission and regulations) can be set up wherever you can drive your vehicle. Weekend trips are easy and fun. Longer adventures are even more appealing since you can quickly move from site to site since you won't need to sent up a tent footprint and drive tent stakes into the ground.
If you struggle with overpacking on gear, a rooftop tent may be in ideal solution for you. Backpackers can have a panic attack over the thought of a couple of extra pounds, and the weight debate has been the defining factor in whether to bring or leave gear at home.
Comfort
For many people, the thought of sleeping in a tent is quite off-putting. Tent camping has long been synonymous with uncomfortable, cramped, and often damp conditions. The rooftop option goes a long way to eliminating these issues. Most manufacturers include a comfortable and insulated mattress as part of the base package.
The designs also include excellent ventilation to ensure airflow. As we know, condensation is the tent camper's worst nightmare, and the only answer to this problem is high-quality materials (which we are about to discuss) and adequate airflow.
Durability
Using the most suitable materials means the tents are built to last. Rooftop tents are generally made with long-lasting, weather-proof materials, focusing firmly on function and durability rather than weight and transportability. With car tents, manufacturers can ensure they use the very best materials for the job.
Traveling Space
Removing the bulk of the camping equipment from the car, and placing it on the roof, frees up space in the vehicle, making a journey safer and more comfortable, as well as creating space for equipment you may otherwise leave at home.
Security
The elevation of being located on the car roof makes for increased security, especially if you are camping alone. The retractable ladder pulls up at night and adding a motion detection sensor system is very reassuring in the protection of personal belongings.
Disadvantages of a Roof Top Tent
Fixed location
Once your rooftop tent is set-up, it is impossible to drive the vehicle, restricting your movements more than a conventional tent or camper van.
Removal
Rooftop tents are large and heavy. If you are looking to install and remove your tent every time you go on a camping trip, you will need assistance and a suitable storage area. Most users will fit their rooftop tent at the start of the camping season and remove it after their final trip of the year.
Vehicle performance
Having a rooftop tent installed on your car could potentially affect handling and fuel efficiency, depending on your vehicle's nature. You'll want to check your vehicle's manufacturer rooftop load limit before purchasing a roof rack and tent, since a top-heavy load will affect the its center of balance and its suspension.
The heavier your load, the more fuel your vehicle consume. You'll want to factor in the weight of your roof rack, gear, and bedding into your vehicle's load limit.
Weight
Even the best rooftop tents are bulky and heavy. The lightest of the rooftop tents (we aren't counting the truck bed tents) above, starts at 45 pounds to a whopping 155 pounds. Grab a strong friend, these tents easily require two people to install and remove, due to their size.
Height
Rooftop tents are straightforward to mount on the car, albeit, slightly hazardous, since you're balancing on a ladder in order to install it. Measure the height of both the roof rack and tent shell and check for any overhead obstacles that would prevent you from leaving your campsite or garage, before you start to mount them. Nothing worse then hearing that crunching and scraping noise as your drive out.
Large families or groups
The largest rooftop tents accommodate up to five people. There are minimal options for the largest of families or groups of people. While it is easy to find 8-10 person conventional tents, there aren't any rooftop tents of for a party of this size. Even the best rooftop tents will only accommodate 5 people.
Cost
Rooftop tents are far more expensive to buy than conventional tents, however, they're cheaper than buying or even renting an RV.
Take your time to review the advantages and disadvantages. There are many factors to consider, cost is just a part of it. Hopefully, the points listed above will give you an insight into topics to consider.
Accessories, Awnings, and Annexes
Most rooftop tents base model package will come with a standard set of accessories, such as awnings, aluminum ladders and mattresses. Premium models will include bonus accessories. Overland Vehicle Systems Nomadic 3 offers memory foam pillows, lap table, & mini-broom and dust pan.
As for annexes, you'll want to check whether an annex comes with your rooftop tent base model.
Other rooftop tent brands, like iKamper, Overland Vehicle Systems, and Yakima can offer insulation lining, shoe bags, sheet sets, hammocks, LED light strips, 3-wall enclosures, and shower enclosures to add onto your base model.
Installation and Tools Required
The manufacturer or supplier you purchase your rooftop tent from will potentially offer an initial fitting service. There may be additional fees charged for this. Despite the extra cost, we highly recommended using this service. If the service is not provided, it is sensible to seek the advice of a professional who has experience of fitting roof racks and tents.
Remember that the demands placed on the fixtures and fittings are both camping but also when driving. You will need to make sure the roof bars are adequate to support the weight of your rooftop tent. Do your research before choosing a roof rack or truck that will support the weight of your rooftop tent and YOU (and loved ones)!
If you are knowledgeable and experienced with the fitting of rooftop tents, most of these require just a few tools for installation, including wrenches and Allen keys. Manufactures supply each tent wit comprehensive instructions and safety procedures.
Setting up and tearing down
One of the appealing things about rooftop tents is how easy they are to set up. It only takes a few minutes of work once you arrive at your destination to have the tent ready to go. Setting up an awning and annex will take approximately 20 minutes. Is is time for that beer?
Although the process varies slightly according to the manufacturer, the set-up usually involves the following steps.
Releasing the straps connecting the travel cover and removing it completely.
Releasing any straps that connect the tent and ladder.
Levering the tent open and correctly securing the ladder to the frame and floor.
Inserting and securing any poles, rods, and lines.
Dismantling is relatively straightforward. Practice tearing the rooftop tent down at home a couple of times, before trying it in the backcountry.
The following is a fantastic instructional video on the set-up and tear down of rooftop tents.
Seasons for Car Tent Camping
Although seasonal weather is a factor in any type of camping, car tent camping has its unique benefits that make coping with adverse conditions a little easier. There are also situations where a rooftop tent could be slightly less advantageous.
There is nothing worse than arriving at your campsite, looking to set up your conventional tent, and all you see is wet, muddy ground. Even the most robust of tent liners / groundsheets will only create a barrier for a limited amount of time. Despite the best of design, mud gets walked into the living/sleeping space, and comfort levels are heavily compromised.
Rooftop tents eliminate this issue because they are set up a long way off the ground and not affected by surface conditions. Equally, it is possible to set up the rooftop system when the ground is baked hard or a bit rough. Wet and muddy gear can be removed at the bottom of the ladder and easily stored in or under the car to dry out.
Although there are reports of the Expeditions West guys comfortably sleeping in their rooftop tents in 40 below zero temperatures during an Arctic trip, it is sensible for most people considering buying one to think about conditions they are usually happy to camp under.
Even though a rooftop tent will eliminate some of the discomforts of traditional camping in adverse weather, it won't make winter camping feel like a summer vacation. If you enjoy winter camping and are suitably equipped with high-quality sleeping and cooking equipment, you'll undoubtedly enjoy the added benefits of the rooftop tent.
Rooftop camping, with the right accessories, can be enjoyable through all the seasons.
A quality rooftop tent will enable you to extend your camping season. but won't necessarily change your opinion of winter camping , if you weren't already a fan.
Last update on 2021-10-27 / Affiliate links / Images from Amazon Product Advertising API